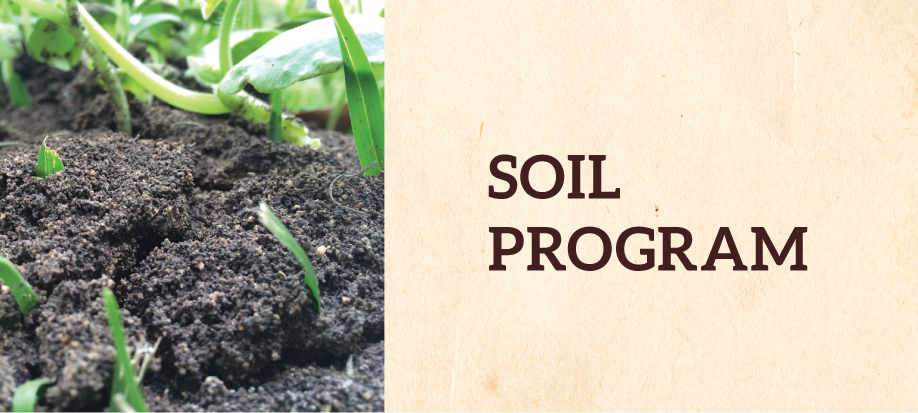 Add Sea Minerals Back Into Your Soil
Healthy soil uses a natural blend of minerals (macro nutrients, secondary nutrients, micro nutrients and rare earth nutrients) to support crops. Over time, soil loses these nutrients due to plant production and/or erosion. Eventually, over centuries, these minerals and nutrients were redeposited into salty bodies of water.
When an ocean or sea dries, it leaves behind mother nature's best depository—a rich collection of all the minerals needed to replenish soil—including the rare earth nutrients. Almost 60 years ago, we found the mineral-rich remains of an ancient sea near Redmond, Utah. This unique mineral salt was buried deep below the surface and has been preserved from modern pollutants for centuries.
Many other salts use chemical processes (bleaching, kiln-dried or adding anti-caking agents) that strip the trace mineral from salt. Without these minerals, sodium chloride is a toxic substance but when left whole (with the valuable trace minerals intact) salt becomes life sustaining.
Redmond's salt is always unrefined, which means we leave all 60+ naturally occurring minerals intact. Instead of using chemical processes, we simply gather these minerals, crush them and package them.
Uniquely, Redmond salt's minerals and salinity levels are nearly identical to the proportions you'd find in the blood of healthy livestock. We like to describe this ratio as mother nature's formula for ideal plant, animal and human health.
We first tried applying Redmond salt on our own farms. The results were impressive—we noticed our plants looked healthier and grew faster. Our animals also preferred to grazing on the treated pasture land.
These results were consistent with Dr. Maynard Murray's findings, "applying sea salts and associated trace minerals have a more positive effect than fertilizing heavily with just one or two elements (i.e., Nitrogen, Phosphorous, and Potassium). The proper ratio of minerals is more important than the total amount of minerals." 1
Stockman Grass Farmer also found similar results: "Fertilizing pasture with salt found to lift milk yield by 10%, milk fat by 5%, and lactose by 3% … Salting pastures increased grazing time, and biting rates, and cows would preferentially graze salt fertilized pastures over non-salted pastures…Fertilizing with salt appears to lower pasture bloat by increasing the digestibility of grasses and decreasing the effects of clover bloat." 2, 3
Beef Magazine's research mirrors these finding as well…"Excessive potassium in plants causes an antagonistic effect on magnesium, calcium, and sodium and induces grass tetany, milk fever, downer cow syndrome and reproductive losses. Fertilizing pastures with salt reduced the excessive potassium levels." 4
Besides adding salt to our soil, we also began applying volcanic ash. This ash is also found in thick layered deposits in Redmond, Utah. This ash is also incredibly high in minerals and acts as a re-mineralizer. We gather this ash and package it as Redmond Conditioner.
We gather both the salt and the volcanic ash via separate operations. We package these resources individually but also offer a blended combination known as SR 50 & 65. It's a simple way that you can return the trace minerals back into the soil—all 60+ of them.
Both our salt and conditioner products are OMRI listed for organic use. You can see our certification here.
(1) Sea Energy Agriculture, 2003
(2) Stockman Grass Farmer, October 2000
(3) Stockman Grass Farmer, September 1999
(4) Beef Magazine, June 2003
Law of the Minimum
Justus von Liebig developed this law which states that plant growth is determined by the scarcest, limiting nutrient. So even if all the major elements are present, production will still be limited by the lack of trace elements. As important as N-P-K are, it was learned that "the natural blend of sea minerals (the sea salts and associated trace minerals) have a more positive effect than fertilizing heavily with only a couple of elements."1
So Why Redmond Products?
Re-mineralization—over 60 elements for the ancient sea
Increases uptake of other nutrients
Works well with biologicals
It feeds the predators of parasitic nematodes