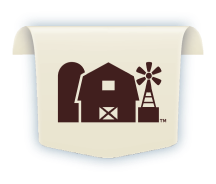 Redmond Pressed Blocks
For all classes of livestock.

Trace Minerals
Redmond Blocks contain nature's perfect balance to nourish your livestock. We mine the sea salt from an ancient deposit in Redmond, UT.

HEALTH + PRODUCTION
We often hear "our animals just do better on Redmond."

PREFERRED BY LIVESTOCK
Animals instinctively crave salt that has naturally occurring trace minerals. Try it in your herd: put any other salt block next to Redmond Natural Block and see which one your animals choose.

NO CHEMICAL PROCESSING
Whether your approach is organic or conventional, Redmond will naturally help you get back to what you love about raising animals.
Redmond Has Options
Which products will work best for you? We are here to help!
Granular Products
Product
Description
Use Direction
10 Fine
Fine Granular Salt
Free-choice, ration mixing
10 Fine with Garlic
Helps repel flies, ticks, and biting insects
Spring and Summer
4 Medium
Medium Granular Salt
Free-choice
Selenium 90
Redmond Salt with 6 tract minerals including 90 ppm Selenium
Free-choice
High Iodized
For Pink Eye
Free-choice during trouble times
Cattleman's PFS
For Pink Eye, Foot Rot
Free-choice during trouble times
Beef Mineral Mix
Calcium, Phosphorus, Trace Minerals, Vitamins
Free choice at all times
Redmond Conditioner
Higher levels of each mineral, toxin binder, buffering agent
Best mixed with any othe salt varieityes or mixed into ration, 4 oz/hd/day
SR 65/SR50
Conditioner and salt mixed: 65% Conditioner (SR 65), or 50% Conditioner (SR 50)
Free choice, but best mixed in ration, or add alittle more Redmond Salt
SR 50 MVP
Same as above + fortified with vitamins and minerals
Free-choice, ration mixing
SR 65 MVP
Same as above + fortified with vitamins and minerals
Free-choice, ration mixing
Custom Mix
We work with you to create a mix for your herd's needs
Block Products
Product
Description
Use Direction
Natural Block
Redmond Salt
Free-choice at all times
Natural Block with Garlic
Flies, ticks and biting insects
Spring and Summer
Selenium 30 Block
5 added trace minerals
Free-choice at all times
Selenium 90 Block
TM plus 90 ppm Selenium
Free-choice at all times
Iodized Block
Same as above + fortified with vitamins and minerals
Free-choice, ration mixing
Added Trace Mineral Block
Added levels of copper, manganese, cobalt, iodine and zinc
Free-choice at all times
Custom Block
We work with you to create a mix for your herd's needs
Soil Products
Product
Description
Use Direction
Redmond Salt
Redmond Salt
For all soil types: 50-100 lbs/acre split applied broadcast and/or 3-5 lbs/acre liquid folliar or irrigation applied 3-5 times/year
SR 35
Conditioner and salt mixed 35% Conditioner
For clay loam/heavy clay: 100-200 lbs/acre split applied broadcast 2x2 strip till
SR 50
Conditioner and salt mixed 50% Conditioner
For silt loam: 100-200 lbs/acre split applied broadcast 2x2 strip till
SR 65
Conditioner and salt mixed 65% Conditioner
For sand/fine sandy loam: 200 lbs/acre split applied broadcast 2x2 strip till
CEC
Sand: 1 to 5 Fine Sandy Loam: 5-10 Silt Loam: 10-15 Clay Loam: 15-30 Heavy Clay: >30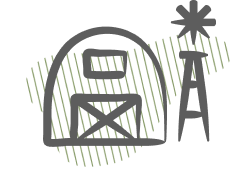 "Redmond products have really been a blessing. I use Redmond #10 Fine because we used to have lots of trouble with the toxicity and fevers that come during Fescue season. When we add 10 Fine into our ration, these problems never come."